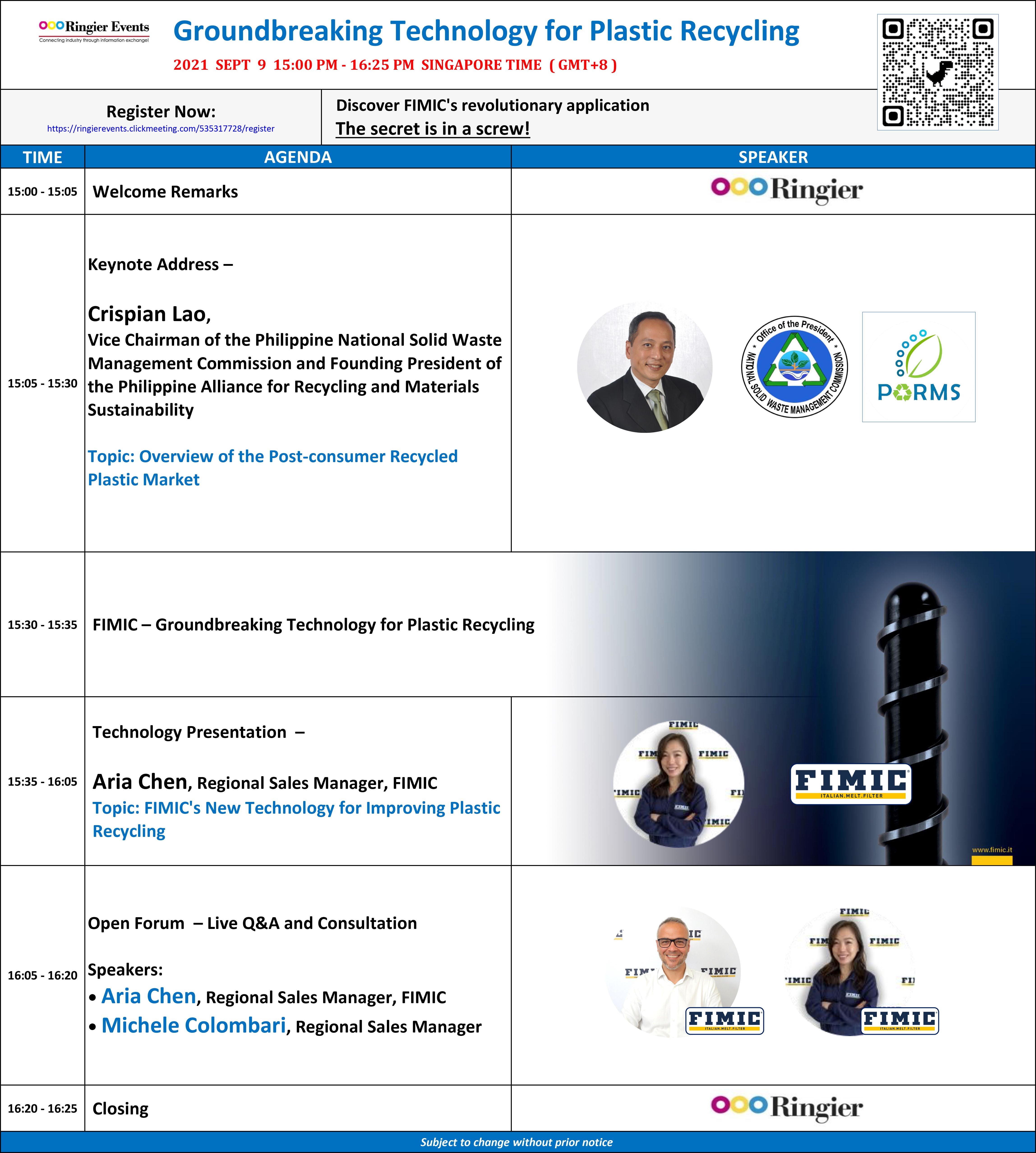 ---
Primary Topics:

· Post-consumer plastics recycling
· Organization of the recycling process
· Performance improvements in post-consumer plastics filtration
· Trend and future of plastic recycling
Target audience:
· Plastic products manufacturers/converters
· Plastic recyclers
· Plastic materials producers
· Plastic compounders
· Other trade associations engaged in plastics and waste management
---
Join us for the global launch of FIMIC's latest innovation – a game-changer in plastics recycling!
On 9 September 2021 starting at 15:00 (Singapore Time) FIMIC will unveil its latest revolutionary application aimed at improving plastic recycling. This FIMIC innovation can maximize the efficiency of the recycling process to significantly lower maintenance and operational costs, as well as improve end-product quality for higher profitability.
The webinar will cover such highlights as post-consumer plastics recycling technology updates, an efficient organization of the recycling process, and performance improvements in post-consumer plastics filtration.
---
FIMIC's Regional Sales Director, Ms. Aria Chen, and her colleague, Regional Sales Manager, Mr. Michele Colombari, will discuss their latest innovation and its benefits to those engaged in plastic recycling. They will also present the company's advanced solutions and how these can further enhance distinct engineering standards and support their customers in various regions around the world.
---
Also, as a keynote speaker, Mr. Crispian Lao, Vice Chairman of the Philippine National Solid Waste Management Commission and Founding President of the Philippine Alliance for Recycling and Materials Sustainability, would like to give a speech on the topic: "Overview of the Post-consumer Recycled Plastic Market", and lead the audience to discuss some of the following aspects:
· Situation or overview on the post-consumer recycling sector in Asia.
· How companies are responding to the recycling goal to protect the environment efforts or initiatives of the government in Asia.
· In meeting the circular economy goal how do companies respond to the latest recycling technologies?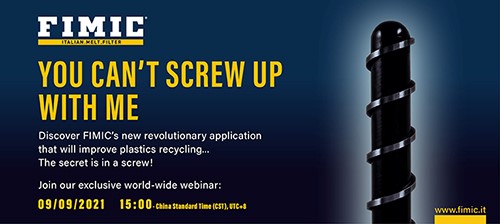 #sustainability #circulareconomy #climatechange #environment #recycling #sustainable #environmental #research #plastics #plastic #zerowaste #PCR #webinar #energy #maintenance #development #quality #technology #innovation #FIMIC #plasticrecycling #automaticfilter #automaticscreenchanger #screw #newtechnology #plasticrecycle #塑膠回收 #回收造粒 #循環經濟 #circulareconomy #recycling #sustainability #plastics #waste #webinar